It's a good product for beginners
Haven't tried an oral irrigator before? Then this is a good fit for you. It's not that expensive, it's small and does the job. I also have a tip for you how you can save some money on this product.
There is an interesting situation with this product.
3-Mode Oral Irrigator by Duomishu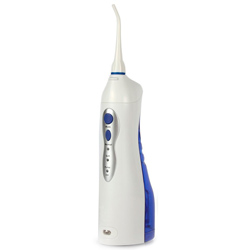 The thing is that there are several other products, that are identical to this one. And they are made in the same factory in China. The only difference between them is the color and brand name.
So I recommend you to pick a product from the table below.
They are all the same. Just choose which one you like the most. I would choose either the cheapest one or the pink one. Just because I like the pink color.
Now let's review the product features
3-Mode Oral Irrigator overview:
3 settings
the highest water pressure 80 psi
dual voltage
10 inches height
the water tank 6 oz
The highest setting provides good cleaning for your teeth
It has 3 settings. The highest one provides water pressure 80 psi, which is good enough to remove all the food and bacteria from your mouth.
The lowest setting is 40 psi. I recommend starting with this one and let your gums get used to it. Then switch to the highest setting.
The Mode button is for switching between settings.
It supports dual voltage, which is great for travel overseas
This product works on 110v/240v voltage. So you can use it anywhere in the world. It will make your travel more healthy and comfortable.
Not all oral irrigators work that way, so it's a big plus for this one.
The height of the unit is 10 inches, so I recommend taking off the nozzle when you travel.
The water tank is 6 oz and it's more than the average portable oral irrigator
The water tank capacity is 6 oz, which is good. Some more expensive products have smaller water tanks. So you get a good value for the price.
Please note, that you will have to refill the water tank because it runs out of water pretty fast. Refilling 1-2 times is a must, which is expected from a portable oral irrigator. If you don't want to refill it, then I recommend taking a look on Waterpik Traveler, that has a big water tank.
Conclusion
3-Mode Oral Irrigator by Duomishu is a good choice for beginners and for travel people. It has good performance and good water tank capacity. The price is relatively low, which makes it a low-risk purchase. The value is well-worth the money.
3-Mode Oral Irrigator by Duomishu