What is included in JP210 Solo
It is not really Solo, because it comes with a lot of accessories:
The Handle
Water Flossing Nozzle
2 Floss Capsules
Toothbrush Head
Water Tube & Clip for travel
Tongue Cleaner
Travel Kit Case
Charging cable
USB & AC Adapter
The Handle
The handle is almost identical to the JP200.
So what's new?
The one important difference is that the charger is inserted into the handle now(into the place where you put the nozzle.) It makes it super convenient for travel, because you no longer have to keep it on the horizontal surface in order to charge and you can just throw it on the bed, and it will be charging fine.
And you have the following controls on the handle:
On the front you have:
Turn ON/OFF button – self-explanatory thing. Turns your JetPik on and off
Brush LED indicator – lights up when you use a toothbrush head
Flossing LED indicator – lights up when you use a water flossing nozzle
Battery LED indicator – shows the level of charge left in the battery
On the back:
Tip eject button – just click it to remove the tip
Water pressure switcher – let's you control the power of water pressure
Water Inlet – you insert the rubber tubing here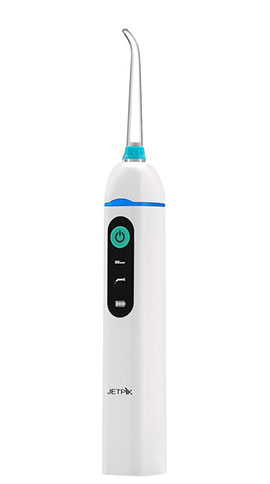 Pulsating dental floss
Thins thing makes a world of difference. It makes JetPik so much more efficient in terms of flossing and cleaning your teeth. It eliminates the need for a string floss entirely. Without it, JetPik wouldn't be what it is.
So what is it?
Pulsating dental floss. JetPik pulsates it 20 times per second. It's incredibly efficient. And this feature is what differentiates JetPik water flossers from all the other ones.
But you have to remember one thing.
JetPik uses dental floss capsules. You insert one into the nozzle, and it starts pulsating along with water. You have to replace floss capsules every few weeks. They will cost you $1, but it's the investment worth of your beautiful smile. You have 2 floss cartridges included with the unit as well.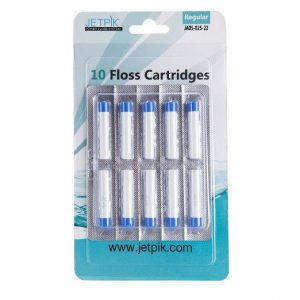 Tips
JetPik JP210 Solo comes with 2 tips:
One JetPik Nozzle
One Toothbrush Head
So you don't have to worry about buying tips, everything is included with the unit.
As I mentioned above, JetPik nozzle has a special place where you insert the dental floss capsule. It can be used without dental floss as a simple water flosser as well.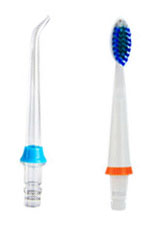 Sonic Toothbrush
This is what again makes JetPik a very useful product. I cannot emphasise enough how well-thought this product is.
So what is that?
You can use your JetPik as a Sonic Toothbrush. Just insert the toothbrush head instead of the nozzle and you are ready to go. Once you've inserted the toothbrush, the LED indicator lights up as well.
The Toothbrush has 2 speeds: high and low. I recommend using the high one because it is more efficient.
To enable it just turn ON the unit and it will work on the high speed. The second press on the turn ON button will switch the brush to the low speed, and the third press will disable the unit.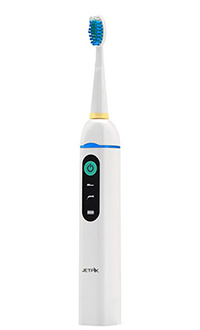 Tongue cleaner
With JP210 Solo you also get a Tongue Cleaner which is nice to have. It removes the bacteria from your tongue and makes your breath fresh.
But I already have one, what's the deal with this one?
The thing about this tongue cleaner is that it's made of metal. So it is much more efficient at cleaning your tongue when compared to the plastic ones that you could find in a store. So I recommend using it every day and you will see how your breath improves.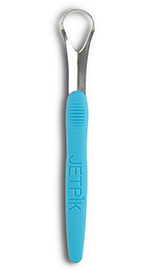 Travel case
JP210 Solo is primarily made for travel. So what's the most important thing for travel?
It's that you can place everything from your JetPik into a nice travel case and throw it into the luggage and don't worry about it. It will be safe and ready for use once you take it again.
The case can keep everything that you may need for your JetPik:
the handle
floss capsules
tongue cleaner
small tube of toothpaste
JetPik water tube
nozzles and tips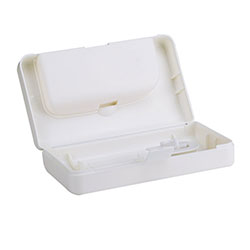 The charger
The charger in JetPik JP210 Solo is inserted into the handle where the nozzles are inserted.
So what it gives you?
It gives you the ability to charge your JetPik literally everywhere. You can throw it on a couch, put into the luggage and it will be charging with no problems at all.
It takes 3 hours to charge JP210 fully.
You can charge both from USB and a socket outlet.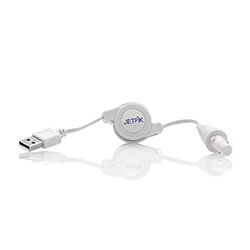 Difference between JP210 and JP200
There are two main differences between JP210 Solo and JP200 water flossers:
accessories included. JP210 doesn't have UV Sanitizer, and JetPik Cup included. It's primarily made for travel, and you don't need those things in travel. I often use a cup/bottle in a hotel room for my JetPik, and it works just fine.
charger design. The charger in JP210 is inserted into the handle which gives you more flexibility. JP200 has an inductive charger, and you have to place it on a horizontal surface(table, floor, etc.) for it to function properly. It may not be convenient if you are in a hurry or in travel and want to charge your JetPik on the go.
Comparison to Waterpik
The main difference between all JetPik water flossers(not only this one) and Waterpik is the ability of JetPik to pulsate dental floss. It makes it much more efficient in terms of cleaning and removing bacteria, food from in-between your teeth.
But there is one more thing…
And it's portability. You can use your JetPik wherever you want. It has Universal Voltage that works everywhere in the world. It is also compact, so it's easy to carry around. On the other hand, Waterpik is bulkier and I often recommend it for home only.
Final conclusion
JetPik JP210 Solo is efficient water flosser. It is very similar to its predecessor JP200 with the main focus on convenience in travel. It comes with a lot of accessories and a travel case. It is an excellent travel companion and will take care of your smile in travel with ease. I recommend getting it.
JetPik JP210 Solo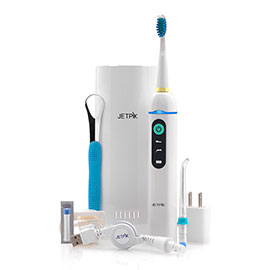 JetPik JP210 FAQ
Can I buy a JetPik Cup/UV Sanitizer separately? Sure, you can find all the accessories online.
Can I use it in Europe/Australia/UK? Yes. JetPik has a Universal Voltage.
What is better JP200 or JP210? They are both good. It depends on what you need more: for travel go for JP210, for home + travel go for JP200.
Is it more effective than Waterpik? Yes, JetPik is more effective than Waterpik primarily because of its dental floss pulsation. Waterpik pulsates only water.
What is more reliable JetPik or Waterpik? Waterpik is definitely more reliable and robust. It is producing water flossers so many years and has a huge experience making oral health care products.
What is better to get: Waterpik Cordless Freedom or JetPik? I recommend JetPik, since it's more effective. But at the end of the day, it all comes down to personal preference. Do you like having dental floss capsules? Then go with JetPik, otherwise take Waterpik.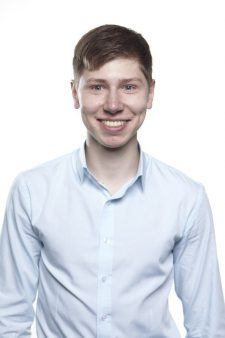 Alex
Hello, my name is Alex. Hope you can like and share this content. Thank you so much!