Waterpik Complete Care 5.0 WP-861W is the next generation of combination water flossers from Waterpik. In short, it is almost the same device as Complete Care, except the new Triple Sonic Toothbrush. It is a good water flosser and has all the benefits of complete solutions from Waterpik.
Design and dimensions
The design of Complete Care is good. It looks slick on the counter space. I like that it comes in two colors: white(WP-861W) and black(WP-862W.) The dimensions are 5.6″ x 5.0″ x 10.8″ and are the same as in its previous model Complete Care.
The looks slightly resembles the Waterpik Aquarius. It has the same water reservoir and is also that high as well.
Pressure settings and performance
Waterpik Complete Care 5.0 has 10 pressure settings. The highest setting provides water pressure of 100 PSI. The performance it offers is excellent and it cleans your teeth really well. It works amazingly well even if you have braces.
Water reservoir
This water flosser has a big water tank of 22 Ounces(650 ML). This is a typical capacity for the combination Waterpiks. That big water reservoir provides you with 90+ seconds of work, so you can clean both sides of your mouth without a need to refill the water tank.
The handle
The handle is slightly different than on the previous Complete Care model and has a pause button in the form of slider instead of the button. Though it looks fancier and is more practical.
The slider is more convenient than a button when you want to stop the water stream. In this case, you just put the slider in the OFF position and you don't have to hold the button.
Replacing the tips is easy. You just press the eject button on the handle and the tip pops out. And then you insert a new tip.
There is also a rotation head that allows rotating the tip for a better positioning in the mouth.
Tips included and the Tips Storage
The Tips Storage is big enough to keep the tips for all your family members and can store up to 5 tips. Make sure that every family member uses his personal tip(nozzle.)
To use a tip you just pick one and insert it into the handle. Waterpik Complete Care 5.0 comes with 5 tips included:
One Classic Jet Tip for high pressure. It serves well if you want the highest pressure possible
One Classic Jet Tip for low pressure. It is more suited for people who like more gentle cleaning
One Orthodontic Tip. It has a little brush on the end and works best for braces
One Plaque Seeker Tip is good for implants, crowns, and bridges
One Pik Pocket Tip works great for periodontal pockets and furcations
To learn more about different Waterpik Tips see my Waterpik Tips Guide.
The Triple Sonic Toothbrush
The Triple Sonic Toothbrush is very similar to the regular Sonic Toothbrush that comes with other Waterpik models. It is also very powerful and cleans teeth very well.
The toothbrush has a rechargeable battery that holds the charge for about a week. The charger sits on the water flosser base, and the brush stands on the charger.
The charger is cordless and inductive. The toothbrush also has a LED indicator that shows how much juice is left, which is very convenient.
This Triple Sonic Toothbrush also has 3 modes:
Clean mode. It is a regular brushing mode for everyday use
Whiten mode. It removes the stains and whitens your teeth.
Massage mode. It is the best for increasing blood circulation and gums stimulation
Triple Sonic Toothbrush also has the already well-established 2-Minute Timer. The Timer makes the vibration pause every 30 seconds so you could switch to the next quadrant of your mouth. It makes brushing more even.
The Toothbrush also comes with 2 heads included, so it should stay for a while.
It is also water resistant so that you can use it in the shower.
Comparison to Waterpik Complete Care
As you may already see Complete Care 5.0 is very similar to its predecessor Complete Care. The only significant difference is the Triple Sonic Toothbrush with 3 new modes that are not present in the old Sonic Toothbrush from the Complete Care.
If you want some fancy modes on the Toothbrush then it is better to choose Complete Care 5.0, but in my opinion, there is no significant difference between those two toothbrushes.
They both clean well and you can whiten as well as massage your gums with both toothbrushes. So I think it's just marketing.
The other difference is that Complete Care 5.0 has the new design. The design noticeably resembles Waterpik Aquarius.
It is available in two colors: black and white, whereas the Waterpik Complete Care model has a conservative design and has one color.
Other than that both water flossers are good and you can buy either one, which one looks better to you. Complete Care 5.0 is less popular, though.
Conclusion
Waterpik Complete Care 5.0 WP-861W is a successor of the older model Complete Care. It has all the benefits of its predecessor plus the improved design. It comes with everything needed and removes plaque and bacteria amazingly well.
Please note that complete care solutions work amazingly well for the whole family and have the appropriately big Tips Storage.
Overall it's a good water flosser and I recommend getting it. You will see how it will greatly improve your oral hygiene.
If you have any questions feel free to hit me on social media.
Waterpik Complete Care FAQ:
Does it come in alternative colors other than white? Yes, it also comes in black color WP-862W.
Is the water reservoir the same as in Waterpik Complete Care? No, the water reservoir is 22 Ounces and is the same as in Waterpik Aquarius. Complete Care has the water tank of 23 Ounces.
Can I use it for braces? Yes. Complete Care 5.0 comes with the Orthodontic Tip that is specially designed for braces.
Why is this toothbrush called Triple Sonic Toothbrush? Because Triple Sonic Toothbrush has 3 modes: cleaning, whitening, and massage.
How the power of Complete Care 5.0 is compared to Waterpik Ultra? Waterpik Ultra is slightly more powerful, though it provides the same pressure in the device specifications.
Can I use Waterpik Complete Care 5.0 outside the US? No, unfortunately, this Waterpik is only compatible with North America Voltage. Though you can buy a power adapter that will convert to your Voltage, such as 220V for example. Look for at least 15W adapter.
Can I add mouthwash to the water reservoir? Yes, sure you can use your favorite mouthwash and add it to the water tank. Just make sure you rinse the water flosser with some water afterward.
My Waterpik Complete Care 5.0 started collecting mold. How can I fix that? Run a white vinegar through the water flosser and then dry the water reservoir. To avoid molding in the future clean your water flosser with white vinegar every month and dry the water tank weekly.
How long the Triple Sonic Toothbrush holds the charge? It holds the charge for about a week. One thing to note here is that the battery will hold less with time.
The battery in my Triple Sonic Toothbrush died. Should I buy a new Toothbrush or I can just replace the battery? The battery is unreplaceable in the Triple Sonic Toothbrush, and you should buy a new toothbrush.
Does this Water Flosser require one socket outlet or two? Waterpik Complete Care 5.0 uses only one socket outlet, so you don't have to plug in the toothbrush and the water flosser separately.
What is the pressure range in Waterpik Complete Care 5.0? The pressure range is 10-100 PSI.
What is the flow rate? Waterpik Complete Care 5.0 has flow rate of 13 Ounces per minute (400 ML.)
Does the water flosser have a Massage Mode like in Aquarius? No, Massage Mode is only available in Waterpik Aquarius.
What is the capacity of Water Reservoir and how it compares to the one in Aquarius? The water tanks are identical. The water reservoir capacity in Complete Care 5.0 is 22 Ounces(650 ML), and it's the same in Waterpik Aquarius.
What is the Voltage? The Voltage of Complete Care 5.0 is 120VAC/60Hz.
What is the weight of Complete Care 5.0? It weighs 1.75 Lbs.
What is the width, depth, and height of Complete Care 5.0? 5.6″ x 5.0″ x 10.8″ accordingly.
What is the Warranty? This water flosser comes with 24-Month Warranty.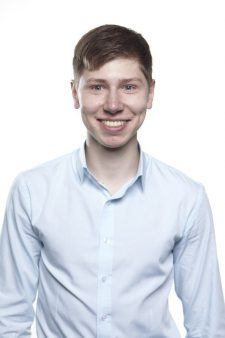 Alex
Hello, my name is Alex. Hope you can like and share this content. Thank you so much!