Waterpik Cordless Professional WP-440 is an older brother of Cordless Freedom and it's main difference is that it has rechargeable battery instead of AA. It also has other pros and cons that I want to highlight in this review. Cordless Professional is also a successor of older model Cordless Plus and costs on $15 more. Let's see what it can offer. I hope I will answer all your questions. As always please feel free to hit me on social media and ask any questions you may find unanswered in this review. If you like this review I will be happy you like and share it. So let's jump onto review.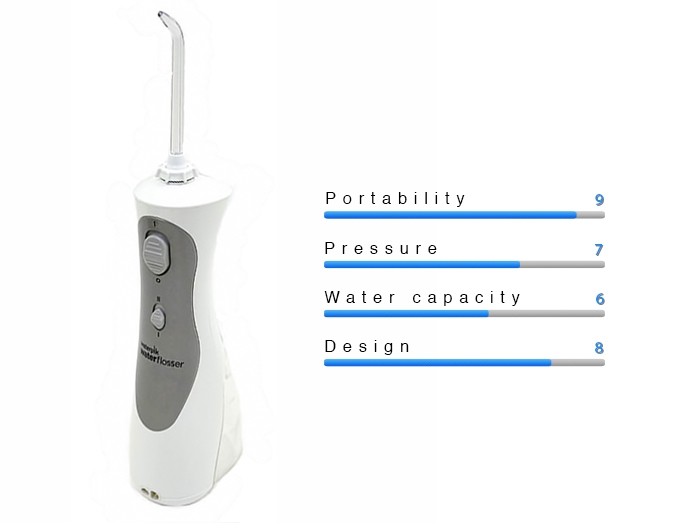 Table of Contents
Good use cases for Waterpik Cordless Professional
Waterpik Cordless Professional best serves in two use cases:
Travel within US – The device is compatible with US Voltage and can hold charge for 12-15 uses that is enough for travel within US. It is also good that the device is allowed in the hand luggage so you can take it on plane with you. Cordless Professional is waterproof and you can use it in shower (e.g. in a hotel room.)
At home usage, small bathrooms and dorms – In case you don't have counter space enough for countertop water flosser then Cordless Professional is a perfect choice. It's also convenient for dorms, since you can charge it in your room and then use in a bathroom.
Charging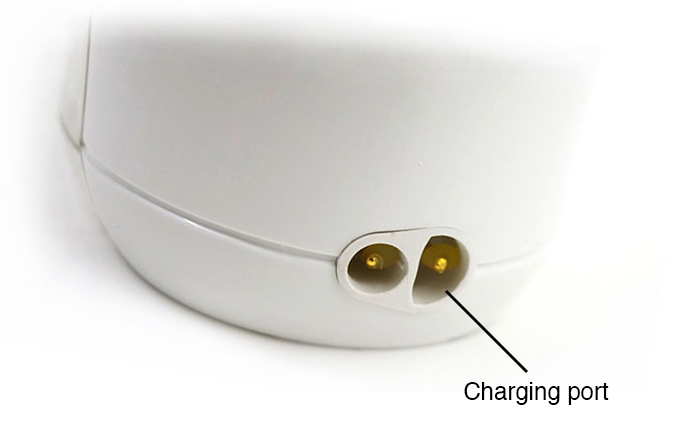 So as I said this Waterpik charges from the network and is only compatible with US Voltage so you can't use it oversees. It's Voltage is 120VAC/60Hz. But it is still compatible with travel within US and is actually a better choice for this kind of travel. Though you will have to carry a charger with you if plan a trip for a week or longer, because it can only hold 12-15 uses (of course it depends on how long you prefer to water floss.)
Control panel and handle
The control panel is very simple and has only two switches:
Power switch – turns the water flosser on and off
Speed switch – has two speeds: high and low. Low speed – 45 PSI pressure. High speed – 75 PSI pressure.
Most of the time you will stick to one speed that you prefer the most. I personally like the high speed more, because I use 6th pressure setting on my regular countertop model and feel that it cleans my teeth the best on this pressure.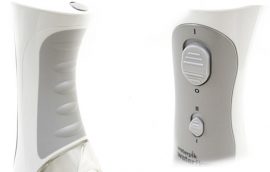 The handle has a rubber surface and is pretty comfortable to hold. One thing that is certainly different here from regular countertop models is that it is a lot thicker.
Water reservoir and performance
Waterpik Cordless Professional has water reservoir 7 Ounces (210 ML) and it provides 45+ seconds of work with water flow 10 Ounces (300 ML) per minute. To refill the water tank you simply open the lid on the back and fill the reservoir while holding it upright and then close the lid and you are good to go.
The device has two speeds. Lower speed is equal to 4 on countertop models and higher speed is qual to 7. You can switch between speeds with a speed switch that sits on the control panel. Two speeds provide 45 PSI and 75 PSI respectively.
Dimensions and weight
Dimensions of the device are 2.7″ x 3.8″ and height is 11.6″ that are about the same as in other portable Waterpik water flossers. Device weighs 0.7 Lbs with empty water reservoir. Fill the tank and you have 1 Lbs water flosser. It means you have to get used to holding this thing in your hand.
Included tips
It comes with 4 tips:
two Classic Jet Tips – for general use
one Orthodontic Tip – it has a little brush and is the best for braces
one Plaque Seeker – works the best if you have crowns, bridges or implants
To insert a tip into the water flosser you have to push it into the whole and you will hear a "click". To remove the tip just press the button on top of the handle and it will pop up.
For more info on tips please see my Waterpik Tips Guide.
NanoSonic toothbrush included
Cordless Professional comes with a NanoSonic toothbrush included. And the brush is fine, but not impressive. And I didn't expect anything great from it since a good electric toothbrush would cost you another $50.
Weak sides
Waterpik Cordless Professional is a compact water flosser and it has some flaws that are typical for compact water flossers:
less powerful motor compared to countertop models
smaller water tank
water tank embedded in the handle
no charge indicator
no travel case included
It's main weak side is power and water tank capacity. Since it has a smaller motor it just can't provide the full power as a regular countertop Waterpik models do. And while it is okay for the most people and should be enough, some still may be unsatisfied with it. If you used a countertop model on the highest possible pressure level then you may find Cordless Professional provides not enough pressure for you. If you are curious how this model compares to traditional Waterpik water flossers in terms of pressure then it's high speed is about 7 pressure setting on a regular water flosser.
The water reservoir is 7 Ounces (210 ML) and it means you will have to refill it in order to do a decent cleaning.
Another interesting thing that should be noticed that when you are water flossing the water tank empties and the device becomes lighter which is just something that you have to get used to. The same situation is with other portable water flossers.
One more inconvenience is the whole charging process with this device. I found that you have to charge it for 24 hours before first use. It is at least strange but I think it has something to do with battery life.
Another inconvenience is that there is no light or charging indicator that shows if the device is fully charged. You have to charge it for some time and then "feel" if it sounds charged. It is very frustrating and strange why Waterpik didn't put a charge indicator on it.
Since Cordless Professional is portable and well-suited for travel it's dissapointing that it doesn't include a travel case and you have to buy one. Not good, Waterpik.
Comparing Waterpik Cordless Professional and Waterpik Cordless Freedom WF-03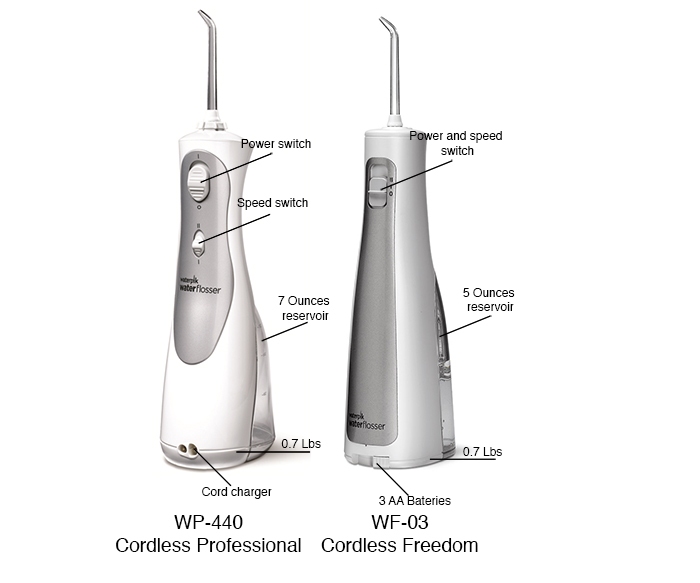 The important points to highlight when comparing Cordless Professional and Cordless Freedom are:
Weight and dimensions
Energy source
Control panel
Water reservoirs
Portability and travelability
Both Professional and Freedom are portable water flossers and have the same weight and dimensions, with Freedom being slightly higher (not noticeable.)
The main difference is that Freedom works from 3 AA batteries whereas Professional works from rechargeable battery. This makes Professional more powerful and it generates more Water Flow per Minute 10 Ounces (Freedom generates 8 Ounces per minute.) The same holds for Pulses per Minute: Professional does 1450/m whereas Freedom does 1200.
Both devices have 2 speeds: high and low. The only difference is that Freedom has a single switch that combines both turning ON/OFF and changing speeds. So when you start the device you always have to skip the first speed in case you prefer the high one. Professional water flosser has power ON/OFF and speed controls as a separate switches, that is more convenient, since you rarely have to change speeds once you find the one you prefer more. The handle in both devices has a rubber surface for comfort grip.
Both devices have removable water tanks and you also can fill them without removing from the water flosser. Professional model has a slightly bigger water reservoir 7 Ounces that provides 45+ seconds of work and Freedom has 5 Ounces providing 30+ seconds of work. So you have to refill Freedom's water tank more frequently.
On the other hand Freedom is the ultimate winner in portability and serves as a better travel companion, since it works from AA batteries. You just buy ones in any part of the world and you are good to go. Professional loses here since it has to be charged with a cord charger and you have to carry it around (not always though.)
To sum up Freedom gives you more flexibility and portability whereas Professional has better performance with less portability.
Final conclusion on Waterpik Cordless Professional WP-440
Overall this Waterpik Cordless Professional water flosser is a good fit for travel within US and at-home use in small bathrooms. It is more powerful than it's smaller brother Waterpik Freedom. There are also some inconvenience involved particularly in the charging process. But this water flosser may be a great companion in your oral care.
Waterpik Cordless Professional FAQ
Where can I get a travel bag for this water flosser? You can get it on here
How many times can I use it before it runs out of juice? Cordless Professional holds charge for 12-15 water flossing sessions, depending on how long you floss.
Can I charge it from 220v network? No, WP-440 is compatible for US only. For 220v you have to buy a 15 watts power adapter.
Can I use tips from my countertop water flosser with this one? Yes, Cordless Professional uses the same tips as other Waterpik models.
Can I use it in shower? Yes, Cordless Professional is waterproof and you can use it in shower.
How can I know that the water flosser is charged if there is no power indicator? There is no way, you just have to give it some time to charge and then see if the motor works as fully charged. It is inconvenient, but there is no solution for this unfortunately. Waterpik said they worked on this.
How long is the charger cord? The cord is 4 feet long.
What is a loudness level of this water flosser? WP-440 has loudness level of 75 on the distance of 4″
What is the maximum pressure and how it compares to countertop models? The maximum pressure is 75 PSI and it corresponds to 7th pressure setting on countertop models.
What is a warranty? Waterpik Cordless Professional comes with 2-year warranty.
Can I replace the battery? No, unfortunately the battery is not replaceable.
Does it have Timer as Aquarius has? No, Timer is only available in Waterpik Aquarius WP-660 and WP-67x series.
Can I travel with it without the charger? Yes, it can hold charge for 12-15 water flossing sessions and if that is enough then you can travel without charger for sure.
Does the toothbrush pulsate or rotate? NanoSonic toothbrush pulsates.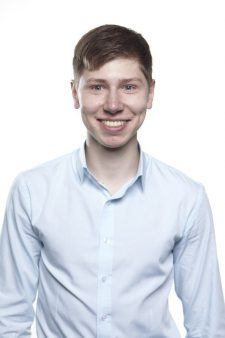 Alex
Hello, my name is Alex. Hope you can like and share this content. Thank you so much!