Water Flosser Overview
Waterpik Ultra is one of the most successful water flosser models produced by Waterpik. It is an old member of countertop line water flossers and has been holding it's positions since the early years. Some of the new models (such as Aquarius) came in since then and they do have something to provide that this little guy doesn't have, but they do this with the expense of some other cons, so Ultra still stays in the game. I thoroughly researched this device and collected all the different sides of the product and I think I've got a pretty objective picture to show you. So let's dig into it.
Highlights of the product:
Best performance in class
Big Water tank
Tips storage for 4 tips
Comes in 2 colors: black and white
High quality product
Waterpik Ultra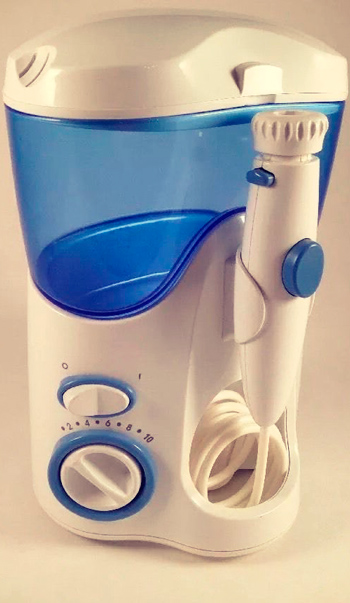 Table of Contents
Design and colors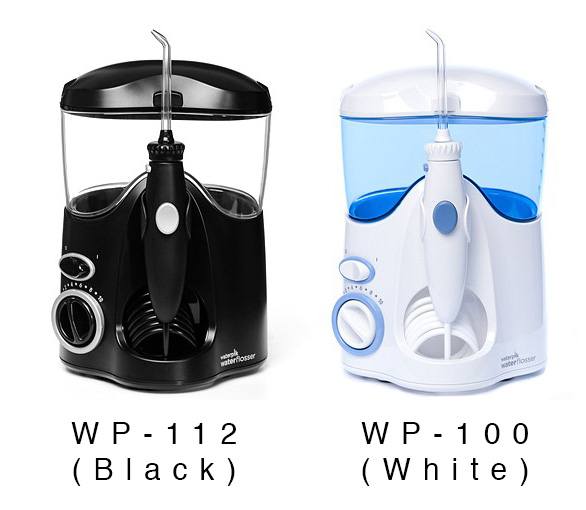 The design of Ultra WP-100 is very conservative and it's not a surprise since the model was first made back in 2006 and didn't have any major redesigns since then. Waterpik Ultra comes in two colors: white (WP-100) and black (WP-112). It is also worth mentioning that the black model collects touch marks faster.
Water reservoir
The water reservoir is big enough and has capacity 22 ounces (650 ML) that provides 90+ seconds of water flossing. This is a typical capacity for top Waterpik water flossers. The water reservoir has measurements printed on it in OZ and MLs so it's convenient to look on them when you are filling up it with water (and measurements are also visible when the reservoir is mounted in the water flosser.) A lid on top of the water reservoir protects dust falling into it and also serves as a tip storage.
The water reservoir is top rack dishwasher safe so you can wash it in a dishwasher with no worries. One thing that you have to do though is always remove the valve from inside before putting the reservoir in a dishwasher and don't forget to place it back afterwards.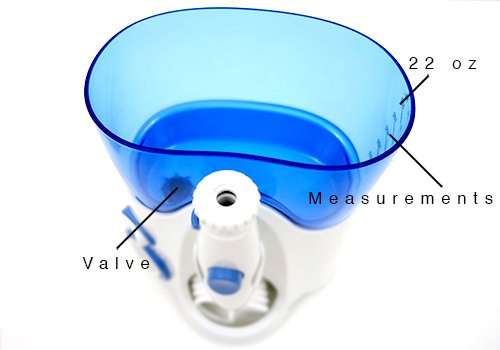 Control panel
The control panel is very simple and has only two controls on it:
turn ON/OFF button
pressure level dial
Turn ON/OFF button starts and stops the motor. Pressure level dial allows you to select desired water pressure. When you are starting I recommend sticking to lower settings and increasing pressure when you feel comfortable. It allows you to find the most efficient pressure level for you that still is comfortable and doesn't hurt (Waterpik can hurt if not used properly, believe me.) Pressure settings vary from 10 PSI to 100 PSI maximum, with the highest one being able to provide an excellent cleaning for your teeth.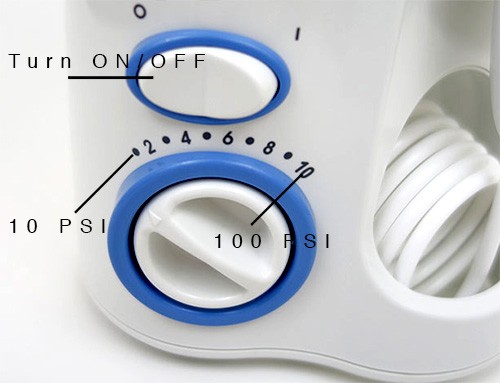 Tips storage and tips included
The tips storage is located inside the reservoir lid. It is designed the way that tips don't touch each other which is good for personal hygiene and in case several family members will use single Waterpik. The storage can hold up to 4 tips and that is very convenient for the whole family (Some countertop models only provide storage for 2 tips, such as Aquarius WP-660 and WP-67x series.) So the storage is pretty good.
Waterpik Ultra Water Flosser comes with 6 tips included:
Two Classic Jet Tips – for general use
One Orthodontic Tip – the best for braces and has a little brush on it
One Plaque Seeker Tip – for crowns, bridges and implants
One Pik Pocket Tip – works best for periodontal pockets and furcations
One Toothbrush Tip – best for removing plaque from your teeth
For more information about tips see my Waterpik Tips Guide section.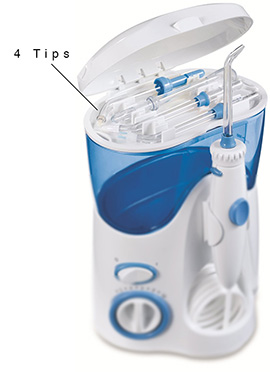 Handle
The handle has a pause button that stops the water stream and is handy on the beginning and the end of water flossing and is also useful when you want to reposition the tip in your mouth or just spit out excessive water. The button stops only the water flow though and the motor keeps working. This is common for all Waterpik water flossers.
To insert a tip into the handle you just push the tip into the whole and it will "click". To remove it there is a special button on the handle that pops up the tip. Handle also has a spinning head on top that allows you positioning the tip in the desired direction for better and more convenient cleaning. Though I often find myself twisting my wrist instead since it is simpler for me (many users find themselves doing the same.)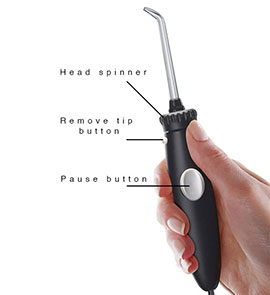 Size and dimensions
This water flosser has dimensions 5.6″ x 5.3″ x 9.9″ (width, depth, height) which is slightly larger than Aquarius. Its weight is 2.4 Lbs that is on 1 Pound more than Aquarius. I believe some of this weight is accumulated in the motor and that's why he is able to generate more power.
Comparing Waterpik Ultra to Waterpik Aquarius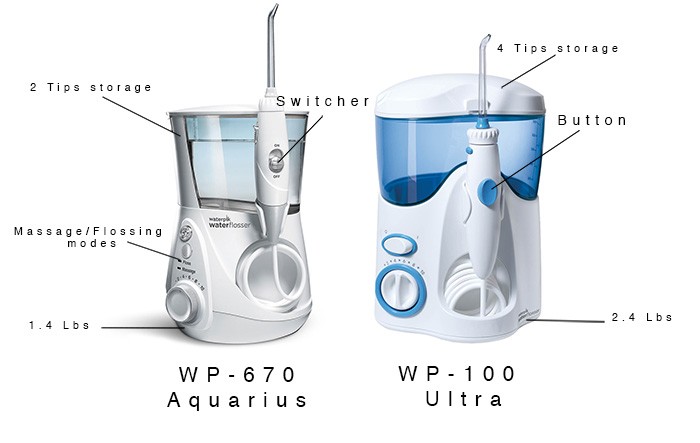 Waterpik Aquarius is a successor of Ultra and has some pros and cons over it.
Ultra's design is more conservatively and slightly old fashioned whereas Aquarius has a more modern looks. Moreover Aquarius has a designer series WP-67x that look very stylish and has 4 different colors: white, black, teal and pink. Ultra has only two colors: black and white.
Ultra is heavier and weighs 2.4 Lbs whereas Aquarius weighs only 1.4 Lbs. I consider it an advantage of Ultra because the more weight the less shifting around counter space may occur, since Waterpik water flossers have a very stiff hose that may cause shifting.
Ultra has a bigger tips storage that allows you to store 4 tips compared to Aquarius' 2 tips storage. Though the storage in Aquarius sits in a separate reservoir and doesn't require pulling it out when you want to remove the reservoir. On the other hand Ultra's tips storage also serves as a lid and you have to remove it every time you want to remove the reservoir.
Ultra is slightly larger in dimensions and is 5.6″ x 5.3″ x 9.9″ compared to Aquarius' 4.7″ x 3.8″ x 10.3″. The difference is not huge though but it exists and is worth mentioning.
Ultra has a pause button on the handle whereas Aquarius has a switcher. What is better depends on your personal preference. One thing that is objective here is that button requires you to keep pushing the button whereas with switcher you can just turn it on and it will keep stopping the water without the need for your attention.
Waterpik states that water pressure specifications for both models are the same: 100 PSI max, 13 Ounces (400 ML) Flow Rate Per Minute, 1400 Pulses Per Minute. Though I noticed a slightly better performance in Waterpik. Other customers also have reported the same that confirms my assumptions.
Ultra is cheaper than Aquarius on about $10. Aquarius designer series is additionally more expensive on another $10 that makes a total $20 difference between Ultra and Aquarius WP-670. This is the cost of stylish look though.
Tips and tricks for Waterpik Ultra
Adding a mouthwash solution into the water reservoir will dramatically increase cleaning effect. Also make sure you run a little of water through the device so that it is cleaned.
Always empty the water reservoir because it will leak if left with water inside for a long time and you will find water all around the countertop when you come the next time.
Use lukewarm water to avoid harm to your teeth. Cold water may really hurt, believe me I made this mistake.
To prevent molding please clean and dry the water reservoir from time to time (once a week or so). It's also recommended to add white vinegar to the water and clean the water flosser with this liquid.
Flaws but not dealbreakers
So far Wateprik Ultra is a very good water flosser, but it still has some flaws as all products do.
The first thing to note is that Waterpik Ultra is loud. Its loudness level is 73 Db on the distance of 3 Inches and decreases to 60 Db on the distance of 10 Feet. To understand how loud it is the city traffic loudness is 80 Db and normal conversation loudness is 60 Db. So yes, it is loud and it may even wake up your family members at night. And all Waterpiks are loud and there is nothing you can really do with it. The better the water flosser cleans the louder it is and there is no escape from that.
Another weak side of Ultra that I think is worth mentioning is old design. Waterpik Ultra was made back in 2006 and didn't have any redesigns since then. Waterpik usually doesn't redesign its water flossers and produces new models instead. So it did it by making a new model Aquarius that is a successor of Ultra. It has designer series that look very stylish and are almost the same in other parameters. To read more please see my Aquarius Designer Series Section in Waterpik Aquarius Review.
Other than that there are no other flaws in Waterpik Ultra WP-100 that are worth mentioning.
Final Conclusion
Waterpik Ultra overall is a very well-balanced water flosser from Waterpik that is tested by time and still remains one of the most popular items on the market. Yes, it might look not as stylish as Aquarius does, but it is a very robust device that does the job and is cheaper than other countertop models. It provides an excellent water flossing with it's powerful motor and big water reservoir. It is very good choice if you are looking for a water flosser for the whole family.
Waterpik Ultra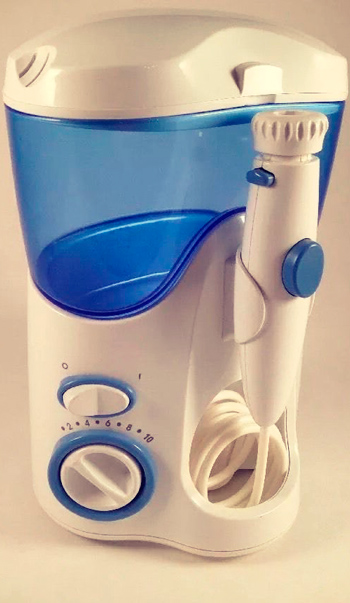 Waterpik Ultra FAQ
How long is the hose? The hose in Waterpik Ultra is 4 feet long.
What is the warranty? Waterpik Ultra comes with Three-Year warranty.
Where are the tips stored? The tips are store inside the lid.
How loud is Wateprik Ultra? Waterpik Ultra has a loudness level of 73 Db on the distance of 3 Inches (for comparison city traffic is 80 Db and normal conversation is 60 Db.) So it may wake up your children or family members at night.
Can I share Waterpik Ultra with my family/husband/wife/significant other? Yes, you can. Just use personal tips and store them in the tips storage in the lid.
How many tips Waterpik Ultra includes? Waterpik Ultra comes with 6 tips. Please go to Tips storage and tips included for more detailed answer on your question.
How the performance is compared to Aquarius WP-660? Power specifications for Aquarius and Ultra are the same, but Ultra is subjectively slightly more powerful.
How long is the hose? The hose length is 4 feet.
What is the pulsation rate? The pulsation rate of Waterpik Ultra WP-100 (and WP-112) is 1400 Pulses per Minute
How fast is the water flow? The water flow of this water flosser is 13 Ounces (400 ML.)
How long can it work on a single water reservoir? The water reservoir in Ultra provides 90+ seconds of water flossing.
Does this water flosser collect mold? Please make sure you maintain your water flosser clean and dry. To avoid molding issues please clean the reservoir once a week and make sure it dries. Also make sure to run a white vinegar once a month to clean the whole water flosser.
Where are the tips stored? Waterpik Ultra has a tips storage that sits on top of the water reservoir.
What is the pressure range for Waterpik Ultra? Waterpik Ultra WP-100 (and it's black brother WP-112) provide a pressure range of 10-100 PSI (0.703 To 7.030 Kg/Cm2.)
Can I use Ultra outside US/for travel? No, unfortunately Ultra and other countertop Waterpik water flossers are compatible only with US Voltage 120VAC/60Hz. For international use please take a look on Waterpik Cordless Freedom Review and Waterpik Traveler Review.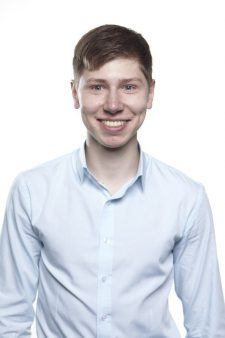 Alex
Hello, my name is Alex. Hope you can like and share this content. Thank you so much!