Overview
Huge water tank, high water pressure, built-in UV Sanitizer and a great price. These are the features that set NiceFeel apart from all the other water flossers. I absolutely recommend NiceFeel Water Flosser. Let's take a closer look on all of these features in this review.
NiceFeel Water Flosser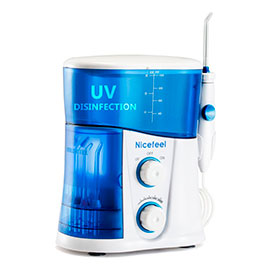 Performance
It has Control Dial with three options:
On – turns the unit On
Off – turns it Off
UV – starts the UV Sanitizer
NiceFeel has 10 pressure settings.
This thing is powerful, so it cleans very well. Even if you got braces, this water flosser will remove any pieces of food from in-between the brackets. It also has a special Orthodontic tip for braces.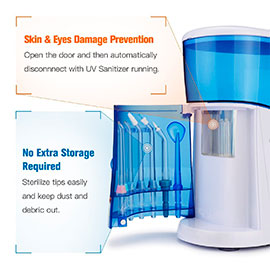 The water flosser is quiet. Not very quiet, but is significantly more quiet than Waterpik. If you often clean your teeth at night when your family members are asleep, then it will make your life a lot easier.
A huge water tank 1000ml provides a lot of flossing time. It is certainly enough for 2 users or even for 3 users.
In general, it works the same as Waterpik Ultra. But I would say that NiceFeel is more powerful and is quieter at the same time.
UV Sanitizer cleans your tips for 15 minutes and then automatically turns off. The Tips Storage has a door on which the tips are stored. You just put them there and close the door. And then turn the Control Dial to UV and UV Sanitizer lights up.
The safety is also okay. If you accidently open the door, then UV Sanitizer automatically turns Off to prevent any damage to your skin and eyes.
Convenience
The handle is lightweight. It has two buttons:
Pause Button – stops the water stream
Tip Eject Button – removes the tip
The handle is identical to Waterpik and has interchangeable Tips.
There are 7 tips included:
3 Classic Jet Tips – general-use tips
1 Orthodontic Tip – best for braces and has a little brush on the end
1 PikPocket Tip – for periodontal pockets
1 Plaque Seeker Tip – has 3 bristels on its end
1 Tongue Cleaner Tip – for your tongue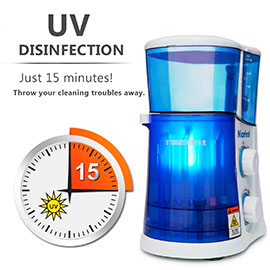 You can also use Waterpik Tips in your NiceFeel water flosser.
It's good if:
you already have a Waterpik and want to replace it with NiceFeel
you want to buy replacement tips/handle, so you can buy from Waterpik, cause they are more available on the market
The base has an anti-skid design. It has suction mounts on the bottom. It prevents sliding if you accidently pull the hose too far. This anti-skid design really shows that NiceFeel put a great thought into their product.
The water flosser also comes with a One-Year Warranty.
Comparison To Waterpik Ultra
NiceFeel is a clear winner when compared to Waterpik Ultra.
It has bigger water tank 1000ml, whereas Ultra has 600ml.
It is more powerful and yet quieter.
It has UV Sanitizer and a Tips Storage for 7 Tips.
It has an Anti-Skid design.
It is cheaper than Waterpik Ultra.
ENOUGH? I guess. And it's not that I'm against the Waterpik. All this time I've been using Waterpik by myself and clearly was thinking that it's the best water flosser on the market.
BUT.
This new NiceFeel came to the market and I think it's a better option now.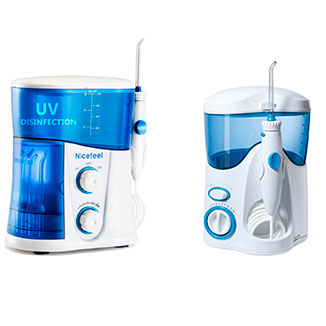 Conclusion
I absolutely recommend NiceFeel Water Flosser. It got good power, huge water tank, UV Sanitizer, a lot of Tips and a reasonable price. The quality is good and it comes with One-Year Warranty. It's a pretty good deal overall.
NiceFeel Water Flosser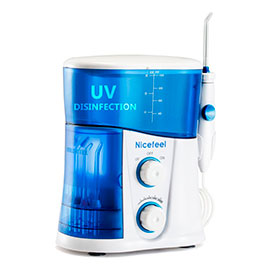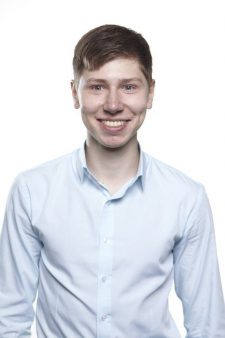 Alex
Hello, my name is Alex. Hope you can like and share this content. Thank you so much!