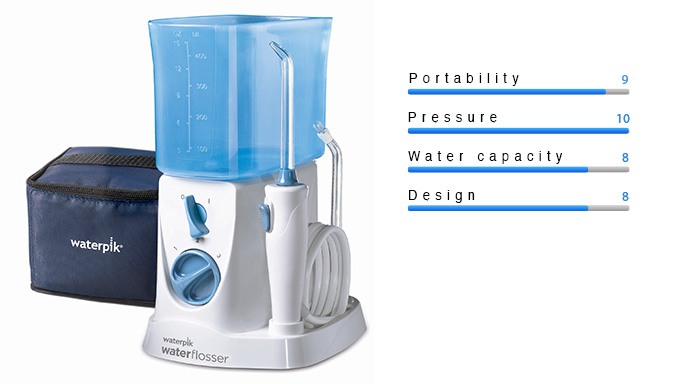 Waterpik Traveler WP-300
Traveler Overview
Waterpik Traveler WP-300 is one of the most successful Waterpik's water flossers, designed for travel people and has some unique benefits that I want to talk about today. The very first thing that catches the eye when you look on the Waterpik Traveler WP-300 is its size. This guy is tiny when compared to regular countertop models. Compact size is one of the main benefits of this model. Ability to invert the water reservoir and cover the whole water flosser with it makes the device very small so that it fits in a compact travel bag. As always I thouroughly researched the product and tried to provide the most information for you in the most meaningful and structured form.
Table of Contents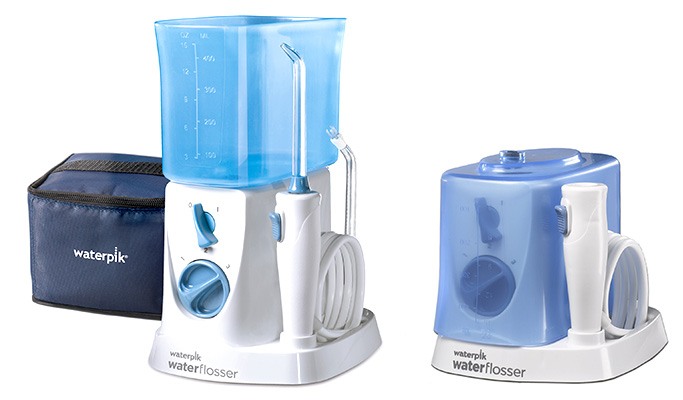 Design and dimensions
Traveler is a very compact water flosser. When assembled it is quite big and is 5.4″ wide, 4.4″ long and 6.8″ high. But when packed in a travel case it is has dimensions 4.5″ x 4.5″ x 4.5″, and it should be able to fit in a carry-on bag on a plane.
The water flosser weighs 1 Lbs with an empty water reservoir. For the comparison Waterpik Ultra WP-100 (which is a classic countertop model) weighs 2.4 Lbs and Waterpik Cordless Freedom (which is a cordless travel model) weighs 0.75 Lbs. The design overall is pretty simple, but functional. It has all the features you may need in a travel.
Water reservoir
The water reservoir is 15 Ounces (450 ML). This is a very big reservoir as for travel water flosser and it's twice as big as other travel water flossers made by Waterpik. And countertop models are just a little big larger than Traveler.
The most important feature of this particular water reservoir is that you can invert it and it is transforming to a cover. In this position the water flosser becomes very compact and can be store in a travel case and will take a very little space in your luggage.
The reservoir has measurements on the side and has no tips storage or lid on it. It is top rack dishwasher safe, so you can put it in a dishwasher with no worries. One thing that you have to remember though is that you have to remove the valve from the bottom of the water reservoir before putting it in a dishwasher. And don't forget to place it back when you are done. It's important and valve helps preventing leakage of water. But don't leave any water in it since after some time the valve will let the water leak through it.
Tips storage and tips included
You can store two tips on this water flosser: one on the handle itself and another one on the body of water flosser. So the actual tips storage holds a single tip. But it's since if you take into account that it is a travel water flosser and two tips is more than enough for a single person in a travel.
Waterpik Traveler Water Flosser comes with four tips:
two Classic Jet Tips – for general use
one Orthodontic Tip – best for braces
one Plaque Seeker Tip – for implants and crowns, bridges
For more info on tips please make sure you read my Waterpik Tips Guide.
Control panel
The control panel in Traveler WP-300 is very simple and has two controls on it:
Turn ON/OFF switch – turns water flosser on and off and looks like a dial, but is actually a switcher.
Pressure settings dial – has 3 marks on it but you can put it in any position (even between marks) so you can adjust the pressure level accordingly to your preferences.
The lowest setting provides 10 PSI pressure and the highest one generates 90 PSI which is very good for travel water flosser.
Handle
The handle on Waterpik Traveler WP-300 is of traditional form, but it lacks a pause button that is present in a regular models. The only button you have here is the eject button that you push to remove the tip from the handle. And to put the tip back into the handle you just push it in and it "clicks".
Another difference from countertop water flossers is that the handle doesn't have a spinning head for positioning the tip. Though this feature is not the most important and I personally find myself not using the spinning head and just twisting my wrist instead. Other users report the same behavior so its absence is not a big deal. And I also think it has something to do with compact size of the water flosser.
Traveler doesn't have any other fancy features to offer, but it does water flossing and it's doing it amazingly well.
Comparing Waterpik Traveler to Cordless Water Flossers
Waterpik has two popular cordless models of water flossers: Cordless Professional WP-440 and Cordless Freedom WF-03. Professional is charged from the network via the cord charger and Freedom charges from 3 AA batteries. They are both very compact and basically look like a huge toothbrush.
The one thing that is different between them and this Traveler WP-300 model is that they have a small water reservoir 5-7 Ounces whereas Traveler has a big 15 Ounces (450 ML) reservoir that provides you with 60+ seconds of work. It's twice as big as Freedom's reservoir and 25% larger than Professional's.
The other advantage of Traveler over cordless water flossers is that it is much more powerful and provides water pressure of 90 PSI and it's reported that this one makes far better job of cleaning teeth. And even though cordless models provide water pressure of 75 PSI maximum, the subjective impression is that they have little less power OR that Traveler provides higher pressure than 90 PSI. In any case the difference between cordless models and Traveler in terms of power is quite noticeable.
Waterpik Cordless Professional basically requires a cord charger to recharge (and it holds the charge for about 12-15 uses.) So if you want to travel oversees for a longer period and need to recharge it then Cordless Professional doesn't actually allow it, because it's not compatible with international Voltage standards and can only be used within US. On the other hand Waterpik Traveler WP-300 is internationally compatible and can be used with any Voltage standard.
So for global travels the only alternative to this Traveler model is Cordless Freedom WF-03. And it's not a bad water flosser by any means, but it is much less powerful and has a smaller reservoir that requires refilling for a decent mouth cleaning. But on the other hand you can get it for much less money and just need to be okay with refilling the reservoir.
International Voltage compatibility
Traveler water flosser has a global voltage compatibility which means that you can plug it in any country and it will work. It doesn't matter whether it's 110v or 220v or even 240v, this device works with all voltages. That makes it the ultimate go-to oral care device in any travel.
Flaws
With all that being said it's really hard to find any weak sides in this water flosser.
It is loud of course as all other Waterpik devices are. The actual loudness level of this water flosser is 76.6 Db on the distance of 3 Inches and it decreases to 63.8 Db on the distance of 10 Feet. For comparison the loudness of city traffic is 80 Db and normal conversation has 60 Db loudness level. And please note that all Waterpik water flossers are loud devices and there is nothing you can do with it. The better the water flosser cleans the louder it works.
The other thing is that Waterpik Traveler is more expensive, but not much, which is not a flaw but an important factor to consider before making a purchase decision. Currently it's price is about $100 which is not a small amount for water flosser (click on link to check the realtime price.)
I also made a review of Waterpik Water Flosser: Cordless Freedom which is another travel-compatible Waterpik model and this Traveler WP-300 model is by far superior in its efficiency. It just simply has more power and bigger water reservoir and does its job better. Cordless model is cordless so it may suit you better in some cases, but when it comes to cleaning your teeth WP-300 water flosser is unbeatable for sure.
When compared to regular countertop models WP-300 water flosser has even more power, but doesn't have some fancy features such as Timer or Massage Mode in Aquarius. Feel free to read my Waterpik Aquarius Water Flosser Review if you are interested.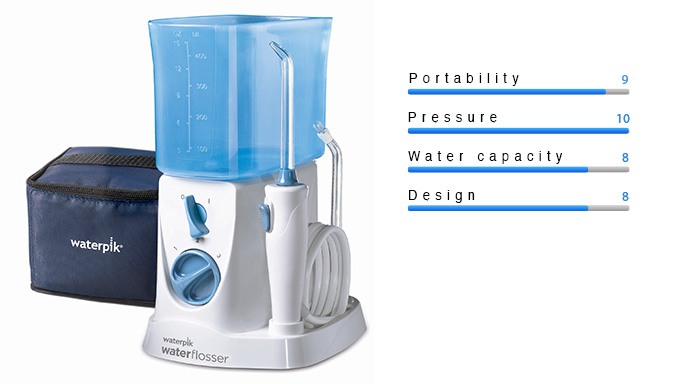 Waterpik Traveler WP-300
Final conclusion
Waterpik Traveler WP-300 Water Flosser is very powerful and compact, that makes it a perfect travel companion. With its powerful motor and small size it combines the best of both worlds and is a go-to water flosser for people who travel a lot. It doesn't provide any fancy features but it does a cleaning job amazingly well and this is what a travel water flosser should do. Overall it's a very successful and well-thought water flosser made by Waterpik and I can't recommend it enough.
Waterpik Traveler WP-300 FAQ
Does it include a travel case? Yes, Waterpik Traveler comes with a travel case included.
How many tips/nozzles/piks it comes with? Traveler Water Flosser comes with 4 tips. Please read more detailed answer in the Tips and Storage Section.
Does it have a cover/lid for the water reservoir? No, Waterpik Traveler doesn't have a cover/lid for water reservoir.
What is a warranty for Waterpik Traveler WP-300? Waterpik Traveler comes with a Two-Year warranty.
What is a Voltage for this water flosser? This water flosser has universal Voltage of 100 – 240VAC, 60/50Hz.
What is the weight of Waterpik Traveler? The weight of Waterpik Traveler is 1 Lbs.
How many pressure settings does it have? It has 3 pressure settings, but they are adjusted with a dial, so you can set an in-between pressure level (e.g. 2.5 etc) that you personally prefer.
If I use 6 pressure setting on my countertop Waterpik what setting should I use on Traveler? Something between 2 and 3. Just play around and you will find a desired pressure level.
How does Waterpik Traveler's power compares to regular countertop models such as Waterpik Ultra and Aquarius? Waterpik Traveler provides an excellent pressure and by specifications it has 90 PSI maximum with a 13 Ounces Flow Rate Per Minute and 1400 Pulses Per Minute, whereas Ultra nad Aquarius both provide 100 PSI maximum with the same Flow Rate Per Minute and Pulses Per Minute. But subjectively Waterpik Traveler is even slightly more powerful than Ultra and Aquarius.
How long does it work from one water reservoir? Waterpik Traveler works 90+ seconds from a single water reservoir.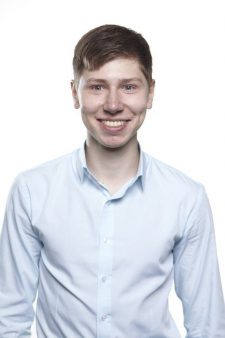 Alex
Hello, my name is Alex. Hope you can like and share this content. Thank you so much!