Overview
In this Dentalski Water Flosser review, you will see all the details of the product. The most important ones are 10 settings, 20 oz water tank, and dual voltage.
Highlights of the product:
Pressure 100 psi
10 Settings
Water tank 20 oz
Dual Voltage 110v/240v
6 Tips Included
Tips storage for 4 tips
BPA-free plastic
Nice design
Magnetic holder
2-Minute Timer
Pause button
Dentalski Professional Water Flosser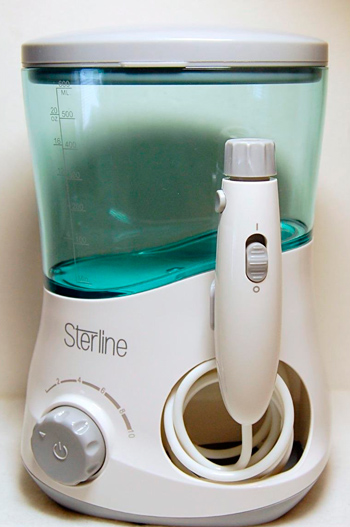 Pressure 100 psi
The performance of the unit is okay. It provides 100 psi pressure with 1400 pulses per minute.
10 Settings
It has 10 settings that you can adjust with a dial. The dial also serves as On/Off button.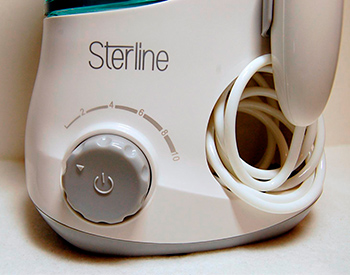 Water tank 20 oz
The water tank is big 20 oz (600ml). It provides with 90 seconds of work on the highest setting. The tank is covered with a removable lid that also serves as a tips storage. You can store 4 tips there. The water tank is cheaply made.
Dual Voltage 110v/240v
The water flosser works from both 110v and 240v. It allows you to use it anywhere in the world. And you don't need any tension transformers for it.
6 Tips included
The water flosser comes with 6 tips included:
3 classic jet tips – for general use
1 Pik Pocket tip – for gums pockets
1 Orthodontic tip – works for braces
1 tongue cleaner tip – use it on the lowest setting for safety.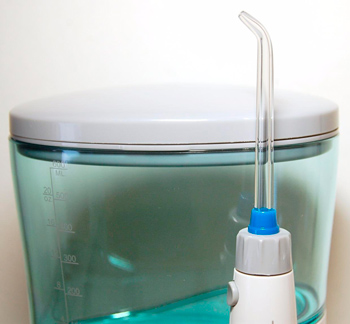 Tips storage holds 4 tips
The tips storage sits on top of the water tank and can hold up to 4 tips. It's made of plastic and feels cheap.
BPA-free plastic
The plastic is BPA-free. The body and handle are good quality. The water tank and lid are cheaply made.
Design
It looks good and has a nice design. For the price, I can give it a high score for its design.
Magnetic holder
The holder for the handle is magnetic. It is convenient and snaps in easily.
2-Minute Timer
There is a 2-Minute Timer that stops the unit automatically after 2 minutes of work. It means that the water flosser shuts down automatically. It also makes pauses every 30 seconds so you know when it's time to move to the next quadrant of your mouth. It is a nice feature but it may also be annoying if you want to floss longer.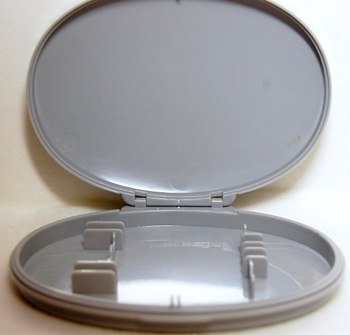 If you don't want a Timer I suggest taking a look on Waterpik Ultra that doesn't have it and is more powerful.
Pause button
The handle has a pause button that stops water stream. It is a switcher and is useful when you want to change the direction of the flosser in your mouth.
Rotating tips
You can rotate the tip in 360 degrees. It is handy when you want to position the tip for the best cleaning effect.
Dimensions
The dimensions of the product are 5" x 4" x 8", so it takes little counter space.
Share it with your significant other
You can share it with your significant other by using different tips. All the tips are color-coded so you know what is the color of yours.
Use Waterpik Ultra for better quality
Dentalski Water Flosser is good. But it has some cheaply made parts like a water tank and lid. If you want a better quality product I recommend taking a look on Waterpik Ultra. It's more expensive, but it's better quality and has better performance. Even though it provides the same 100 psi pressure it actually generates more pressure.
Be aware that Ultra doesn't have dual Voltage, though. If you are outside the US you need a tension transformer that you can buy in any retail store with it.
Conclusion
Dentalski Water Flosser is a good product. It looks good and has nice features such as big water tank and tips storage. The product is good and will make your teeth healthier. Use it regularly! Click the link to check the price in a real-time.
Dentalski Professional Water Flosser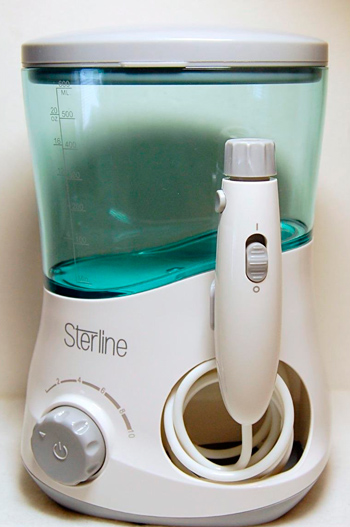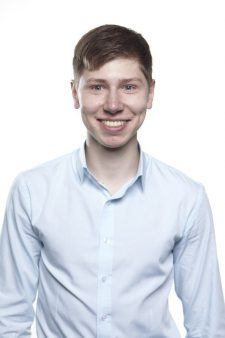 Alex
Hello, my name is Alex. Hope you can like and share this content. Thank you so much!