Overview
Waterpik Cordless Plus is small and portable. It has 2 speeds and provides fine water pressure. It charges from the wall outlet and the water tank provides 45 seconds of use. For more details welcome to Waterpik Cordless Plus review.
Technical stuff first
Water pressure 75 psi, 2 settings
Flow rate per minute 10 Ounces, 1450 pulses per minute
4 included tips, 360 degree rotation.
Water tank 7 Ounces, 45 seconds of use.
Charging from 110v.
Weighs 0.7 Lbs, the height is 11.6". Portable.
2-Year Warranty.
Waterpik Cordless Plus wp450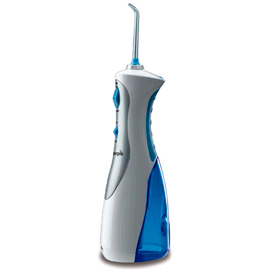 Performance
The product has two controls on the panel:
On/Off Switch
1st/2nd Speed Switch – 45 and 75 psi water pressure accordingly
The water pressure is fine. It's not the best but is good for the portable waterpik. Waterpik Cordless Advanced has better performance, though.
The water tank is 7 Ounces(210 ml). It provides 45 seconds of use before you have to refill it. To refill it you open the door and pour the water in it.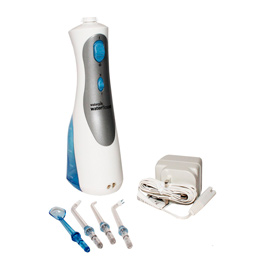 Convenience
The handle has rubber on it and the grip is comfortable. The body is not waterproof, though.
It rotates the tip in 360 degrees, so it's comfortable to reach in hard places.
It comes with 4 tips included:
1 Classic Tip
1 Plaque Seeker
1 Orthodontic Tip
1 Tongue Cleaner
It is light and portable, so it's perfect for travel. There is a travel case also that you can buy additionally to this waterpik. It's made from Nylon and is only blue color and is available.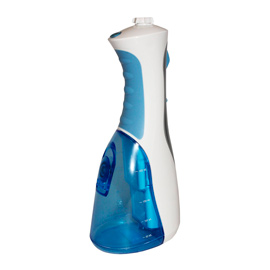 Charging
The waterpik charges from the wall outlet 110v. It comes with AC adapter. The handle has to charge port on the front. There is no charging light indicator, though.
To use it with 220v you will have to buy a tension transformer.
Quality
The plastic quality is fine. The motor is reliable and the battery should stay at least 2 years.
The waterpik comes with 2-Year Warranty.
Conclusion
This product is good quality. It's portable and is perfect for travel. So if you travel often it's definitely worth the money, so you should try it out.
Waterpik Cordless Plus wp450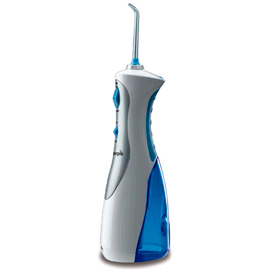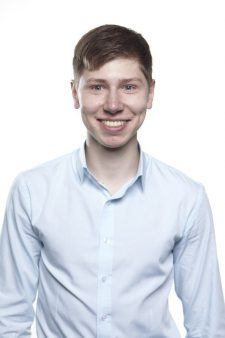 Alex
Hello, my name is Alex. Hope you can like and share this content. Thank you so much!