Overview
I recommend this product if you want portability and convenience, love to travel or have a small countertop. For more information welcome to my Jumbl Water Flosser Review. I hope it will help you make the right purchasing decision.
Jumbl Water Flosser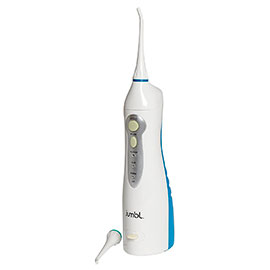 How to use it
The water flosser has 3 modes:
Normal Mode – for general tooth and gum cleaning
Soft Mode – for sensitive gums
Pulse Mode – for massaging the gums
I wouldn't use Soft Mode much. I recommend sticking to the Normal Mode most of the time.
But what about the Pulse Mode you may ask? Pulse Mode works the best when you have something in between your teeth that the Normal Mode can't remove. In that case you switch to the Pulse Mode and it will clean everything.
There are only two buttons:
On/Off Button
Mode Button
To switch between modes you press the Mode button and the appropriate LED indicator lights up.
The product works well. It's not the most powerful water flosser, but it is not supposed to be so. It's more about convenience and portability. This is where it really shines.
If you are interested in the most powerful water flosser then see my Waterpik Ultra Review.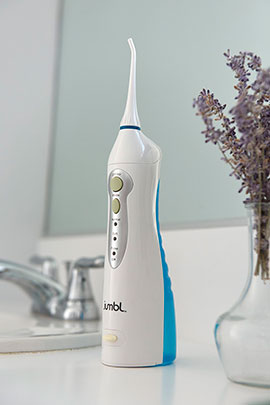 Convenience
Jumbl Water Flosser is very portable. It is small and by its size it's more like a big toothbrush.
The handle fits nicely in the hand.
The Nozzle can rotate on 360 degrees and it helps with cleaning your mouth.
Nozzles are color-coded, so you know what is yours and what is your partner's.
Quality
The plastic is BPA-free and high-quality.
The body is waterproof. There is a rubber seal for the charging port.
It's hard to say about the motor quality. Most people don't have any complaints with it, so I assume it's a good quality.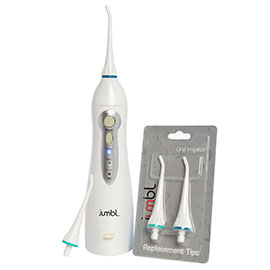 Water tank
One water tank is enough to clean your mouth.
Water tank is easy to fill. It is also removable, so you can clean it well.
The water flosser comes with mini funnel that you use to refill the water tank. It's not required though and you can refill it without the mini funnel as well.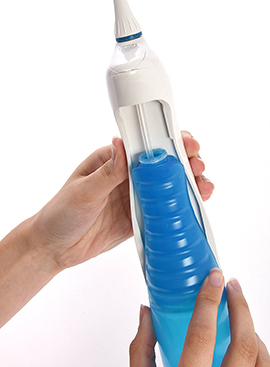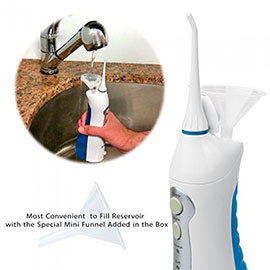 Accessories
2 Nozzles + 2 Nozzles Bonus Pack(4 total). They are all color-coded and interchangeable.
Mini Funnel for refilling the water tank. It is not required, but it makes it easier to refill the water tank.
Charging AC cord. The charger is 110v-240v so you can use it worldwide.
Rubber seal for the charging port. You remove it to charge the device and then put it back, so it stays waterproof. The charge takes 8 hours, so you just leave it on night.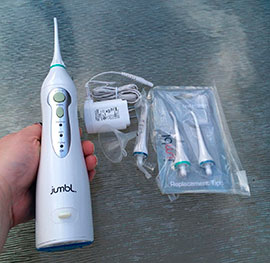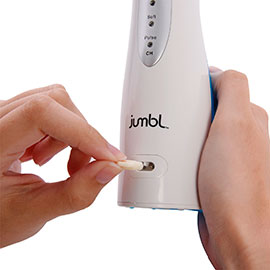 Travel
The water flosser has Universal Voltage and is compatible both with 100v-110v and 220v-240v.
It is compact and is convenient for travel.
Comparison to Waterpik
Jumbl Water Flosser is comparable to Waterpik Cordless Professional. The quality is comparable.
Jumbl costs about $10 less than Waterpik.
Another advantage is that Jumbl has Universal Voltage, so you can use it anywhere in the world. It's a big feature for some people and Waterpik doesn't have it.
Waterpik is more known and more established brand, on the other hand, but it's also more expensive.
Overview
Jumbl Water Flosser has several strengths, such as portability, low price and convenience. It comes with 4 Nozzles, so you can use it with your partner. The Universal Voltage and portability makes it a good travel companion as well. I think for travel people and for those with small countertops this is a good water flosser and I recommend buying it.
Jumbl Water Flosser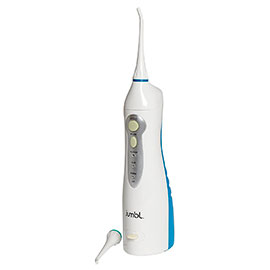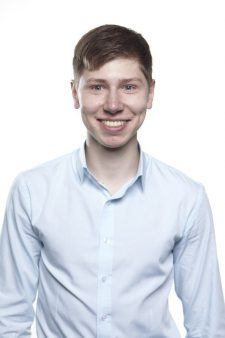 Alex
Hello, my name is Alex. Hope you can like and share this content. Thank you so much!