Overview
This water flosser is unique. It doesn't have any electrical parts. It simply uses your faucet power. It is cheap but effective and convenient. Do you travel a lot? Then it's a great travel companion as well. I hope this ProFloss Water Flosser Review helps you learn more about the product and whether you should buy it or not.
Table of Contents
ProFloss Water Flosser Review: 4190 model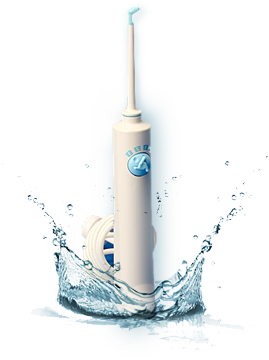 Performance
The water flosser works fine. Though it has a lower pressure. Its maximum pressure is what your faucet can provide. So if you have a low pressure in the faucet you probably wouldn't be satisfied with the performance. For the best performance, I recommend looking on Waterpik Ultra.
There are 4 pressure settings. You can adjust settings using a small dial on the handle.
PLEASE NOTE: The settings can only decrease the pressure, but they cannot make it higher than your faucet provides. Make sure you have a high enough pressure in the faucet.
The water flosser has a thin tubing, so its water pressure is slightly higher than in your faucet, because of the difference in the width.
It provides a constant water stream. So no pulsations like in Waterpik. Just wanted you to know that.
Tubing is 2 feet long. I think it's more than enough in most cases.
FIRST USE NOTE: Please make sure you turn the water on slowly so that the ProFloss aerator fits well in the faucet.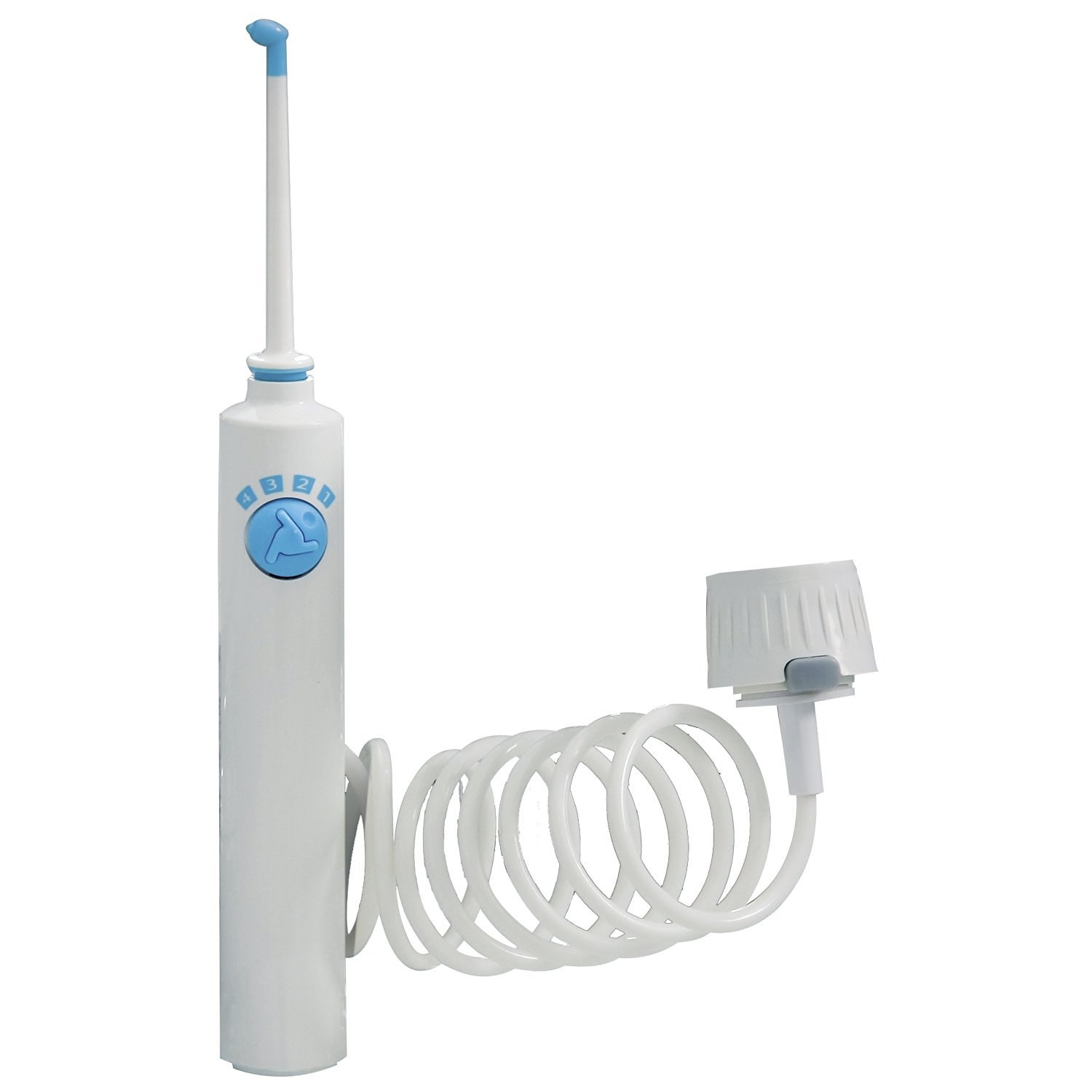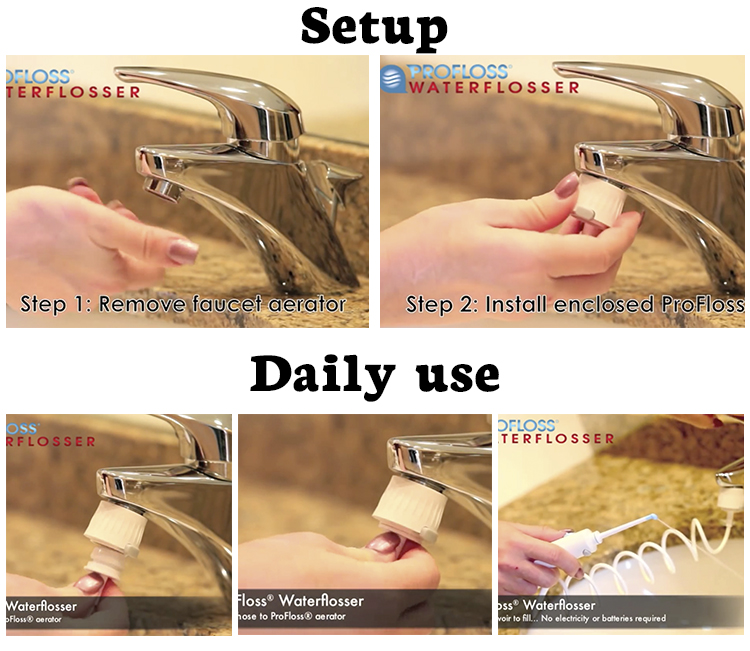 Convenience
No water tank. No batteries. No refilling. No electricity. It sounds great, right? And it is indeed!
Preparation: you have to install the water flosser first. It's a one-time process. It comes with an aerator that you put into the faucet. Make sure you remove the original faucet aerator beforehand.
It's simple to use on a daily basis: you just snap the hose into the ProFloss aerator and that's it. Then you turn on the water and start flossing your teeth.
And here comes its beauty. No water tank, no batteries. You can floss as long as you wish and you don't have to refill a water tank. It makes using ProFloss water flosser very convenient.
The handle is lightweight and sits well in the hand. It will work fine for both children and adults.
The water flosser also comes with a zipper pouch, so it's convenient and compact to store.
Accessories
ProFloss comes with:
Aerator. You put it in the faucet.
2 tips.
Zip pouch. Good for storage and carrying around. Especially for travel.
Travel
This water flosser is a great travel companion. As I said above, it comes with a zipper pouch that makes it easy to take with you.
It is small. I mean really small. You will not find any water flosser that is smaller that this one. Because it doesn't have any electrical parts.
So for travel use, I would say it is a great deal.
Making sure it works with your faucet
It's important to verify that it will fit your faucet, otherwise, don't purchase it!
The water flosser fits most of the faucets, as the company says. The aerator has inside and outside threads, so it fits most faucets with 15/16″ female faucet threads OR 55/64″ male faucet threads. So please verify that your faucet complies to the size.
Also if you live in Europe it probably won't fit. They have different sizing and I'm not sure that it will work for you in this case. You better look for JetPik JP200, that is also compact, but more expensive. For a cheap cordless alternative, I recommend looking on ToiletTree Professional Rechargeable Water Flosser.
Comparison to Waterpik
ProFloss doesn't have any electrical parts, nor it has a motor. So it is absolutely different from all Waterpiks.
It also means that ProFloss is smaller and cheaper. No Waterpik can beat ProFloss in price and convenience. ProFloss is under $20 and you can't find a Waterpik for that price. That's for sure!
On the other hand, Waterpik is more powerful. It has a motor that provides higher water pressure. But you can't travel with it unless it's Waterpik Cordless Freedom or Waterpik Traveler.
So both ProFloss and Waterpik are good, but they have different advantages. Waterpik is really more powerful, that makes it better suited for home use. ProFloss is more compact, lightweight and convenient for travel.
Conclusion
Convenience, portability, ease of use, and simplicity. Those are the main features of ProFloss Water Flosser. It is also cheap and will cost you less than $20. If you travel a lot or want to have a clutter-free countertop, then this water flosser is for you.
ProFloss Water Flosser Review: 4190 model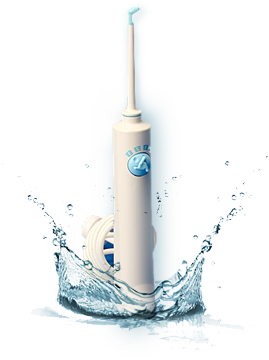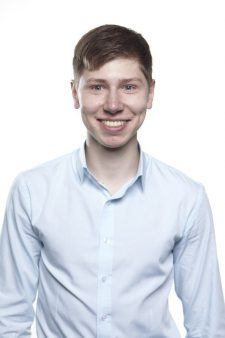 Alex
Hello, my name is Alex. Hope you can like and share this content. Thank you so much!